Our Philosophy
Advanced Health Educators is a company dedicated to providing education to health professionals using the latest methods for teaching the adult learniner. Our goal is to provide courses to enhance the practice of health care providers as well as lay professionals.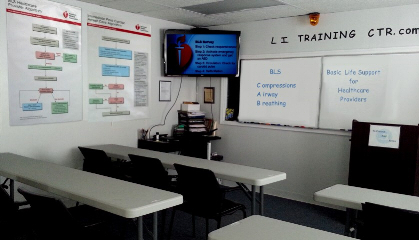 Our Facilities
Our Long Island classrooms are temperature controlled. Instruction is done using state of the art manikins to assist in providing corrective feedback. Most CPR/AED and BLS classes are held at the Long Island Training Center located in Levittown, New York.
Our Staff
Our instructors are all seasoned health care professionals who have taught a variety of CPR and BLS and ECC courses, and share the common belief that instructors are there to support the student's learning. Instructors are considered experts in their field that enables them to bring real life experiences that enhance the classroom experience.
Our Courses
CPR/AED

First Aid

BLS

ACLS

PALS
Computer Literacy Courses
Resume Writing Workshops
We are an authorized provider of American Heart Association Courses, and follow the AHA guidelines of CPR/AED and ECC courses.
We also offer additional courses for both healthcare professionals and lay professionals.
All courses provide sufficient time for students to participate in hands on "watch then practice" instruction.

Course Instruction
All courses taught by experienced professionals
Frequent demonstration followed by hands-on practice.

Scenario examples and actions based on established course protocols

Frequent review of essential concepts with student feedback.
Our Founders
The founders of Advanced Health educators are Critical Care Nurses with over 30 years in hospital experience. After years of direct patient care and preceptoring nurses, they decided to use their nursing knowledge and experience to provide advanced teaching health courses.


Barbara McGuinness, RN, MSN
Registered Nurse and founder of Advanced Health Educators, LLC. A critical care nurse for over thirty years working in the areas of ICU, CCU, ER, and Post Surgical Care Unit. She received a Master's of Science in Nursing, majoring in Informatics. She currently is pursuing a DNP degree. She has also served as informatics consultant for small organizations.

Diane Rispoli, RN, BSN
Registered Nurse and cofounder of Advanced Health Educators, LLC. A nurse for over thirty years, twenty-five years of which were in critical care areas of ICU and the Post Anesthesia Care Unit; and the last five years as senior nurse in the Employee Health division of a local hospital. Diane continues to follow the latest trends in nursing and has served as a preceptor to many new nurses.
Other Continuing Education Courses
All CE Courses -Audiovisual support for lectures that include videos, Powerpoints, and suport literature




Computer courses – Students follow along step by step as they learn how to use software
Google+